The posting of Mr. Mike Igini to Calabar as the Resident Electoral Commissioner REC initially generated a lot of bad press. After all the dust has settled, crossriverwatch spoke with Mr. Igini in a no holds bare interview that wraps both his personal life and his challenges as the CRS Resident Commissioner for INEC.
CRW:  Public opinion in CRS is in appreciable favour of the work you are doing as the REC. The people however are still wondering! Who is this Mike Igini?
Igini: Well thank you for your interest, I am from Delta state in Nigeria, precisely from Kokori in Ethiope East Local Government Area of that state. I had my early preparatory and primary education in Ondo state, then Secondary school in Sapele, from where I attended the University of Benin where I studied Sociology, before further studies at the University of Lagos where I studied Law,  B.L from Nigeria Law School and  also a degree in International Law and Diplomacy at post graduate level.
My law office is at Anthony village in lagos. I have basically joined hands
with other well-meaning Nigerians within the civil society which was a natural cross over for me, having been very active in student unionism at the University of Benin where I was at two hundred level first Deputy Speaker of  students parliament, then  Speaker and eventually Student Union President. In the Civil Society I collaborated and worked with many groups until we eventually formed and I became the Director of
the Center for Leadership Values and policy.
As you may know civil society often mobilizes social resources in society to ensure the common good, in contrast to the mobilization of public resources which is the core remit of government or the state, and the mobilization of private resources which is the armbit of the private sector
economy., So although there are often reasons for the civil society to engage with both sectors to ensure that the public interest is not undermined, my principal endeavors has been in the civil society and legal service  until the current appointment.
Although I had my hesitation initially about taking up the appointment, wide consultation and a general consensus was that  not to do so will be akin to mere advocacy and analysis that amount to a paralysis in analysis of the issues and challenges of the country where we are stuck in criticisms and fault finding without bringing anything to the table when it comes to solutions and the discipline,integrity and personal commitment required to implement same. So I took it up to prove that with commitment and the will to uphold values in the public interest, we
can indeed have a better country through our human agency, because God himself or his angels will not come down from heaven to do it for us.
CRW: How has it been like working in Cross River State as a Resident Electoral
Commissioner?
Igini: Interesting! Well being from the South-South zone, it is not an entirely strange ambiance to work in for me, there were no  significant culture re-orientation for me before hitting the ground on the assignment. But the job was made a lot easier by the people of Cross River State who proved to be people with exceptionally high standards, because I quickly learnt that they were very perceptive of good intentions, and even those who were threatened by the changes that such good intentions could bring seemed to also understand that ultimately a better society is in everyone's favour.
There were of course initial challenges which made bad press for all concerned, but it was very necessary to make an unequivocal commitment to change the trajectory of our electoral history  to fully empower the electorates, the Nigerian people and assure them that in the business of
election, their choice and the freedom to make that choice is central and what matter most to the whole process. At that time, the  matter in issue was on party primary and internal democracy within the parties.
Charity they say begins at home and you can only behave well in public when good behavior is the norm in your family, hence the need to tidy up the many complaints arising from arbitrariness within the parties at the initial stages. But when it became clear to all parties
and  stakeholders that I was not ready to circumvent  rules for any partisan interests but for the benefit of the common good, they quickly complied with their rules.
And I must state here on record that from my experience afterwards, Cross River State political stakeholders have raised the bar in terms of pre-, peri and post election conduct, in fact at this point I can say without fear of contradiction that other states should learn from Cross River State in regard to voters and candidates behavior before, during and after elections. There are exceptions here and there, but overall it has been an experience without any regrets for working to the common good of the people of this state and Nigeria.
CRW: What were the challenges you faced before, during and after the last
governorship elections in the state?
Igini: Specifically on the governorship election of February 2012, the challenges were the usual issues of time pressure, logistics and scheduling  which usually accompanies an event of such significance, but we had some experience of what worked well and what could be constraining based on our experiences in the General Elections, and the Commissions' national headquarters was very supportive with the National Chairman Professor Jega coming to the state to address some issues personally by leading with boots on the ground, because of his leadership of the
process we were able to meet most of our critical needs and conduct the election under a conducive atmosphere.
During the elections there were a few hitches which led to cancellation of elections in a few wards in Etung that were not significant enough to affect the overall outcome of the elections. The most critical criterion of electoral outcome is   acceptance of the voting public without prejudice to areas of shortcomings; and  using that parameter, I can say that it was a successful election.
CRW: Were there any attempts at any point by the political actors to bribe or
compromise you?
Igini: There are always efforts, sometimes, borne out of needless or real fear to want the process skewed as was the practice in time past but the good news is that old things, ways and methods of electoral roguery must and should pass away for the good of our country. No man or woman in any of the elections I have been involved either in Cross River, Imo and Anambra states, can stand before me under God to say that he or she has ever had any  private meeting on how to subvert the electoral process or given or offered me even ordinary 'pure water' how much more  other good things of life that people crave for that have been a source of temptation to many.
As a public office holder, am ever mindful of our family name and values that we cherish so much that should not be soiled permanently because of an office that  is temporal. l belong to a noble profession that can also sanction you if you act in a way and manner that brings our profession to disrepute. On this bribery thing that people seem to have taken as an article of faith, it would be a futile endevour because as I said when I took up the job, candidates and parties should dissipate their energy on pleasing the voters, their electors and not electoral umpires like Commissioners like me, Electoral Officers or any other ad hoc personel involved in the conduct of election, and the best way to go about that, is to be good deliverers of development and the enjoyment of public benefits.
If you are not in a position to execute public projects which can be of great benefit to the public, you can advocate on their behalf. Compromising election managers is too risky, and for people like me it is even dangerous because I may help to make sure you end up in jail instead of an elected office, so why not be a catalyst to public development and benefits which will cost you almost nothing and is  jail-proof?
If you are in a government office and the people in your constituency need a road, why not build one instead of waiting until the elections to give the money to election managers? It will cost you nothing, just the political will; at any rate it is the people's money, but if you think and act as if the money belongs to you, then you may need to  consider that taking that risk which may come with very bitter shock for you, so people should concentrate on pleasing the electors and we will all benefit from it instead of a few of us.
CRW: From an arbiter's point of view, do you think the opposition in Cross River State is contributing enough to the political process vis-a-vis active and robust participation and proffering of alternatives?
Igini: In a proper democracy opposition is not a permanent status, because if your policies and manifesto as a party or candidate do not meet the needs of the voting public at any point in time, the electorate will look elsewhere and you may well be the opposition at any electoral circle and in the last elections, this was the case in some states. So opposition is a very significant part of democracy because it tells the people that there are alternatives to their current developmental status.
Having said that I will say that, indeed the parties who are not in government or what is often called 'the opposition' are  crucial to keeping the political ambiance competitive. Competition for political power is about the competition for developmental ideas, the presidential system is often a winner takes all system in post election operation, its being sugested that it would be good for the development of our political system if we can commit some type of resources to the development of parties which earned the next highest votes in an election to form an effective policy alternative governance mechanism during the lifecycle of an elected regime, that way the alternative party or parties will keep the government in power on their toes in terms of meeting their obligations to the electorate and also help the party in power to spend more time in ensuring that the quality of their governance is high.
Nigerian democracy is evolving and so is the institution of alternative governance, which is how I like to see what you may call opposition in Cross River state. They have also tried their best and from my assessment, their limitations have not been helped by the Nigerian Broadcasting Commission on the statutory provision of section 100 of the Electoral Act on equal airtime parity to all parties. NBC has not been very proactive in ensuring that there is compliance with creating a level playing field for media coverage by state owned media outfits in several states that do not have private stations.
You cannot expect the parties to aid themselves on such matters since they are competitors but national bodies like NBC whose remit it is to ensure that all competitors have equal opportunities should leave up to their obligations to all parties. Nevertheless, the Nigerian democratic process is work in progress even though we know that we can run faster.
CRW: Would you say the government of the state has been inclusive enough to create a conducive atmosphere for everyone to participate in the process including the opposition?
Igini: As I said in the last question, creating an inclusive and conducive ambiance is the main remit of INEC and the Nigerian Broadcasting Commission, The Judiciary, the Security Agencies and all the other organs of state which ensures that the Nigerian people can make an unfettered choice as to the type of leadership they want, while the government of the day should of course treat all citizens with
respect, and ensure their security in an environment in which they should thrive and prosper economically, but in a political contest we do not expect one party to be creating political advantages for another, that is why all the organs of the state which I have just listed should be alive to the duty of ensuring that during the period of transition they should be even handed and be alive to their responsibilities, But if you refer to the  post election governance, I can say that yes, Cross River is a very conducive ambiance where in my experience, people do not have to be leery about speaking up about alternative political views, I have not witnessed any untoward persecution of alternative political views during my stay
here, except they are doing this  in the creeks and watersides away from our view.
CRW: What do you suggest can be done to improve the electoral process in Cross River
State?
Igini: The principal challenges for an electoral system are  the political elites, a reliable legislative template and to always ensure a clean electoral polling register. I believe the fundamental challenge is a national one not really that of Cross River State, and it relates to the challenges of legislative structural capture where the need to change electoral laws which can effectively check loopholes for electoral fraud and malpractices may not be addressed expeditiously by legislators as well as the slow pace of the National Identity Card system. Like the transformation of the power sector, if we are able to get the National Identity administration well, we can easily indentify who is who  so that all our actions as citizens will be easy to account for, that way we can consolidate the gains of the biometric electoral registration  and make election results more credible and valid.
As Nigerians may have noticed, since the biometric registration of voters, moon-slide victories have vanished into our political history, if we can address the twin challenges I have just raised, elections in Cross River and anywhere else in Nigeria will be more and more reflective of the common will of voters as  shown by the elections conducted so far without prejudice to  areas of challenges  that would have  to be addressed  in subsequent elections.
CRW: What are your plans for the 2016 governorship elections in the state?
Igini: Why should l still be here by 2016 doing what ? Assuming, though very unlikely that l will be here,  I cannot have plans different from the plans of INEC as a Commission, my plans are operational plans to implement the strategic vision of the Commission. However,  we shall only bring to the table, our knowledge, competencies, discipline and value of showing personal example in leading social mobilization for the public good to ensure that wherever we may be and if here, the Cross River man or woman on the street is remembered by those who will get his/her
mandate. To do that, I will make sure that every time people go for an election in Cross River State, I want them to remember that it is the power of the Cross River man and woman through their votes that brings them to power because they want a better life for themselves and their dependants.
Short Link:

Since You Are Here, Support Good Journalism

CrossRiverWatch was founded on the ideals of deploying tech tools to report in an ethical manner, news, views and analysis with a narrative that ensures transparency in governance, a good society and an accountable democracy.

Everyone appreciates good journalism but it costs a lot of money. Nonetheless, it cannot be sacrificed on the altar of news commercialisation.

Consider making a modest contribution to support CrossRiverWatch's journalism of credibility and integrity in order to ensure that all have continuous free access to our noble endeavor.


New Feature: Don't miss any of our news again.Get all our articles in your facebook chat box.Click the Facebook Messenger Icon below to subscribe now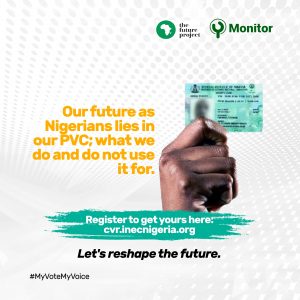 Will You To Learn How To Make Millions Of Naira Making Special Creams From Your Kitchen?.Click Here
Expose Your Business And Make More Sales. Advertise On CrossRiverWatch.com Today