by crossriverwatch admin
Despite denials, crossriverwatch investigation at Obudu Branch of First Bank Plc. confirms that, the Executive Chairman of Obudu LGA, Mr. Emmanuel Ikwen drew an overdraft of N6m from the bank on February 25, 2013 in the name of one Mr. Emmanuel Adie. The overdraft is suspected to be the money that was used in procuring the Award of Excellence recently given to him by a company in Abuja. Having been barred from talking to the Chairman, crossriverwatch employed the services of proxy citizen reporters who conducted this interview with the Chairman at Sheraton Hotel, Abuja where he received the award. In this interview, he reveals the graphic details of how the N6m overdraft was shared and how N1m was budgeted for tea.
Excerpts
What do you think qualified you to get that award?
I think it is the organization that is giving this award of performance and I believe strongly that the NGO has taken stock of what we have done as a council and are convinced that what we have done is worthy of commendation that is why they say we should be here.
So how have you impacted the people from your local government?
Very positively, because we have at least strikingly brought peace and stability; that is the first point of our agenda, security in the local government and everybody is very happy with what is going on. But before now we have been at war with our neighboring state Benue state but since I came I made sure that we have a perfect working relationship with the two local governments from Benue that we share boarder with and today we behave like we are from the same state. Internally, we have also brought cult restiveness among our communities that are always involve in crises and then cultism which has been prevalent in the local government area because of the presence of the College of Education and we have put an end to those things and armed robbery that use to be the order of the day, we have put those things behind us and the traditional rulers counsel now have a say more than ever before in what happens in their domain to address a lot of ills, besides that, we have done a lot of projects that impact in the lives of the people in the area of youth development. We have renovated and equipped skills development center which areas cover different skills as we train people there and send them to many other centers that we are developing in our watch.
We buy items, equipment and send to those places, so we don't lack man power, we have viable political centers, we have also transformed the face of the local government. Obudu is one of the oldest local governments in the former South South, so are making effort to see how to make sure that those old buildings here will be renovated and then landscaping was carried out generally and design was also done, besides that you know I was operating from a private residence but now we have put up a very beautiful edifice; people who go there ask us how we managed to do that, besides that, we have opened the road which today everybody is rushing to build houses around that area and then we have a fish ponds and the type of that fish pond has 10 fish ponds and as today we have about 12 thousand fingerlings that we have put there and are mature already, besides that, we have embarked on a lot of training activities for our youth in different skill areas.
In the area we have renovated a lot of health centers. Our health centers have gone into partnership with an NGO from India, they have told us that what they want us to do apart from health centers, they need health post so that those who have minor health challenges they can attend to them there and we have a resident doctor who take care of all that, besides that we have people who don't even go to the hospital but we want to come and tell chairman that see…. but sometimes they forget that someone is critically ill and lack money for treatment so we write to the doctor at least I know that we have treated not less than 63 or 62 patient of that nature and the they send the bills to us counsel pays the bills.
How do you pay the bills?
Like this one the last payment we made was five hundred and sixty nine or seventy nine thousand that we paid for all of them, so with that and then there is this public relationship I have establish with them whether as the chairman who believes that I have found myself in a position, sometimes you see me walking on the street of Obudu many wonder why I am doing that, I am doing that because I want to see what the challenges of the ordinary person that has no access to me are and then we try to address them. I delegate the responsibilities to my colleague. Apart from that, the few things I have mentioned, there are other areas that they have done work and based on that, we have been given a lot of acronym. This is not the only organisation that has honoured us because I feel that when I went through the profile and then I say ok, no problem locally. I have received so many awards. I will say committee awards and social agency which are is in partnership with the World Bank have won the award in 200, and the obudu chairman is the only Chairman in Cross River state that was recognise for partnership performance with them through that agency.
We have held so many coverage, so many roads, so many schools, so many health centres and health post and then some of these areas they have also put up some persons who are taking care of those health centres and health posts when you put some of these things together you will know that my local government is highly elated.
What do you think has attracted the Obudu Paramount ruler here?
You know my paramount ruler is an icon, I think as at today we have the most honest monarch in the whole of Nigeria and I have drown a lot of inspiration from him through dialogue. There is no major decision I take that I don't go to physically consult him and he has come to see that there is nothing I do outside the work he shares with me and because of that he is always ready to work with and give me advice.
How do you tackle the issue of god fatherism?
Most of the problem most times politicians always try to sponsor one candidate or the other and then the situation were you don't dance to their tune, they will pull you down, I don't know how we are tackling that?
That is very pronounced in Obudu, I was told by my detractors about somebody who called and told me after the meeting they held on Wednesday and yesterday that they were making contact with my Senator to go to EFCC to arrest me. This morning most people called me and said to me; please if you are n
ot yet in Abuja don't go that some people are looking for how to arrest you. I said I will go because I know that I don't have anything to hide, you see that is because of godfatherism. Now in the next few months we will be going to the polls for election. My Secretary is from the same village with the Senator and the Senators work for me to become chairman and I also gave him maximum support to make him Senator and beyond that, he is one of the persons that I gave contract when I started awarding contracts so when some people come and told him that look our Chairman has brought all the different factions of the parties together he picked offense and said he wants my secretary who is from his village to take over from me and he started sending people to drive the agenda for him but I decide to do my consultation quietly. I'm getting grounds but am not happy but the strategy I have always use which is in line with my governor's strategy which is that; after election, don't elect any person because whether he supported you or not, you are ruling the people so immediately I won my election, those that are in will call ourselves together and say we are one party there is no need for us to work at different levels that has become the problem I now have with the Senator. He preached unity but in practice he does not beli
eve in unity. So as at today, that is the issue, he believes that he made me and I told him that you did, but we have a principle, we say we had a philosophy which not the winner takes it all. So that is the bases of my disagreement with him today but as far as I know, other leaders in my local government, we have about 54 members in the caucus, I know that he is the only one as at today who is against me, others are perfectly in order, including the peoples leader of my local government in my area. The peoples leader is a highly respected personality in this country he was the first MD of INEC and as at today many of this newspapers still refer to him for advice and guidance and the man said if one person or leader A,A,C works against him but if he say we should put the past behind us then no problem but the Senator does not want to do it, so godfatherism is a problem in my local government but I think we are working towards overcoming it.
What is your reaction to the allegation that you paid 6 million for this award?
Yes that allegation is funny because in the first place I didn't write to them that I wanted to be given award they wrote to me just like about 14 or 15 others that refuse to honour and when I read the letter I gave it to my SA on due process and I said well, you can discuss with the Exco if you feel we can go no problem and they unanimously agreed, they even set up a committee without my knowledge and when they came they said we needed about N6 million.
What is the breakdown?
N1.6m to come here. The bank was to take about N300,000 for interest and other service charges, so invariably we will be levied about N400,000 and we have a balance of N4.1m. We set aside N1million for entertainment. Entertainment was to come here and have tea on that day and its N1million and you know that to have tea in this manner, N1million is not enough to have reception here so we said let's try and manage. Then my councilors were to have about N670,000 because each councilor was to have N25,000, the Leader of the Legislature N100,000 and the Deputy Leader N80,000. Then my Exco members, they are 12 in number,10 plus the Vice Chairman now 11 and me, each person was to have N50,000 and then my principal staff and the one primary rule was to also put something for them, then our supporters, the chapter chairman of the party and two other persons who were to come, our supporters from different routes were to come and so when we look at the figure, they advice me that the money was not going to be enough, I said to them come, the problem now is where will we get the money from and I told them that well we can go ask the bank if they will give us overdraft from our over head account which we are sure that every month money comes in and that it will not exceed what we expect to get at the end of the month, so my councilors wrote to me that they heard that I am collecting N6million and that I should give them N1.6 million out of the money.
The three man committee that came from the legislature, I pin them down and explained to them what happened, even the misinformation that the Deputy Leader and the security gave them what I call my Vice Chairman who was heading the committee paper, after she read it to them, they were shocked that that wasn't what they were told in the House and besides that, the Secretary and the Deputy Leader told them a lie that we have already collected the money so what was the bases of that allegation because I have sample the Marketing Manager of the First Bank of Obudu and I told him it is loan, this loan is what we need plus interest and savings charge should not be more than 6 million and they completed the figure and added everything and said ok, they will give us N6million.
I also told them let's take permission from the Legislature before we will know what to do, now when we presented that information the assumption now was that we have collected the loan, so when the Deputy Leader was talking in the House authoritatively, the councilors had to visit the bank and the bank told them that the chairman has even called them that they do not want any person to come with him again because of the publications in the papers and internet and that was precisely what happen, you know luckily as at Tuesday I overheard things and I said fine we can come here conveniently the secretary and deputy leader were not happy with us and the amount of money that were given to them. They gave secretary N120,000 with my appointees members of Exco. Other members are getting N50,000 but have given Deputy Leader N80,000. Other councilors are taking N50,000 and his argument is that see him as leader figure in the House, why should they give him N80,000 and we told him that this is not your House matter so he picked offense, they went to the House, they didn't tell the exact thing that was happening because I said they should share their money in line with others even what they gave me I said they should reduce it and add it to transport that I won't have problem but they were making noise, when they went to the bank and there was no evidence that we have collected the money, they came back and they were insisting that they were misled by the bank marketing manager so what I saw on crossriverwatch in the evening of Sunday or Monday was that Obudu councilors were said to be planning to impeach the chairman and before that there was also facebook report that the Senator has given them N2million to impeach the Chairman, so we started working on that and I said I was not coming home, I will remain in Calabar let them carry out the impeachment on Tuesday but on Tuesday morning many of my friends called me and said go to Obudu, by the time I came to Obudu I discovered that the Deputy Leader, the Secretary and one Mrs … held a meeting, the meeting was about the disbursement of the money they collected.
The money was paid through Zenith bank, we don't know which of them but somebody try to give some information its N2million, now it was practically impossible for them to convince the councilors for the impeachment that was on Tuesday, so about 3 councilors signed the impeachment, others said no that from the presentation in the House it was clear that the chairman has not collected any money and they were not collecting that money from the capital account it was from the over head so the councilors now came back home and held their meeting, I wasn't there on Wednesday and say they should invite the deputy leader to come and explain why he went and granted interview that the councilors had accepted to impeach the chairman on Tuesday when they did not.
The councilors now were angry that they have published false information about them and four of them said that they called me and I refuse to pick their calls and that was true they called me and I refused their call, I said don't call me, go and impeach me in the House so that was what I did , I was in the meeting with my Paramount Ruler committee on demarcation of boundaries between two communities, the communities and the state government were around when somebody called me precisely Chief Tony (Undiandeye) the in-law to Martin Orim, Deputy Leader, he called me to say that they have told him that I want to remove Martin. That the Senator said he should call me since he is close to me, I and him have a good working relationship; he called me and told me stories and I told him I am not a councilor. I am not a party to what they are doing. I asked him a question that when the councilors met to share the money that was given to them to impeach me and the story is on the internet, did they see me react? I didn't bother myself about it, so what is my business with what they are doing that was the question I asked him, and I told him to tell the Senator that they should leave me alone.
The Senator was so angry that he went on air calling so many people telling them that I want to bribe Mr. Vena Ikem with N1million so that we will work together against him. He told a lot of people that I am now working with the enemy, he told a lot of people that Cross River State come to consult him. That in Cross River State, the only person that has more money than him is the governor. That he will use his money to brush every person and that the chairman in particular, if tomorrow they say that I should go back again and find the people that they have put chairman in the office that when he was nobody now that he is a Senator nobody can challenge him and that he will give every delegate N500,000. So I don't know if it is the process of getting the delegates that he started with the councilors and they have seen the result but now he is blaming it on me, he called the State Chairman of the party. I don't know what he was talking about because I am not a councilor, that is how it is.
So what is your advice to the people of Obudu?
My advice to the people of Obudu is that we have tested those we feel that are the Messiah and we see that they have failed us even though they still have many years to go in there when their tenure expires, let them look before they leap.
follow us on twitter @crossriverwatch
Short Link:

Since You Are Here, Support Good Journalism

CrossRiverWatch was founded on the ideals of deploying tech tools to report in an ethical manner, news, views and analysis with a narrative that ensures transparency in governance, a good society and an accountable democracy.

Everyone appreciates good journalism but it costs a lot of money. Nonetheless, it cannot be sacrificed on the altar of news commercialisation.

Consider making a modest contribution to support CrossRiverWatch's journalism of credibility and integrity in order to ensure that all have continuous free access to our noble endeavor.


New Feature: Don't miss any of our news again.Get all our articles in your facebook chat box.Click the Facebook Messenger Icon below to subscribe now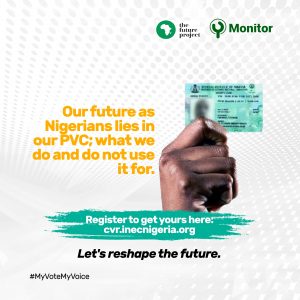 Will You To Learn How To Make Millions Of Naira Making Special Creams From Your Kitchen?.Click Here
Expose Your Business And Make More Sales. Advertise On CrossRiverWatch.com Today