By Patrick Obia
Three residents of Okambi community have been shot by a combined team of Police personnel and civilian gunmen in Obudu Local Government Area of northern Cross River State, over the controversial proposed Passenger and Cargo Airport, eyewitnesses say.
The victims are currently receiving treatment at an undisclosed medical facility while two others arrested are also detained at the Mopol 75 base in Obudu.
The victims include a woman who was shot on both legs, a young man shot in the wrist, another was shot in the elbow while the fourth was hit by a heavy stick by a Police officer which led to him losing consciousness for a while.
The shooting, beatdown and arrests occurred when resident protested to halt the demolition of houses without compensation by the Cross River State Government to pave way for its proposed Obudu International Cargo and Passenger Airport.
Mr. Paul Obi, an aide to Governor Ben Ayade who is in charge of the project had written the community to inform them that demolition will commence today while compensation will be processed at a later date.
"We mobilized our youths and women and went there to tell them that they had to resettle us first and pay compensation before the demolition of our homes, but they brought guns, Operation Akpakwu and gangstars to shoot at us and chase us away while the bulldozers moved in," a senior resident (name withheld based on advice from security experts) told CrossRiverWatch moments ago.
Operation Akpakwu is a security team comprising of personnel from the Police, military and paramilitary forces operating in the State set up in December to combat the rising spate of kidnappings, gang wars and armed robbery.
Meanwhile, Mr. Paul is said to have employed civilians and armed them to protect himself following allegations that he was not advising Mr. Ayade properly which led to the myriads of challenges bedeviling the airport project.
In his statement to CrossRiverWatch, he claimed those injured were shot by natives of Okambi community and accused them of attacking a Police officer.
"Community men shot an Operator, burnt a Dozer (sic), vandalized many, deep machete cut on a Police officer attached to project (sic)," he wrote.
On those injured, he wrote: "Those who got gun shots were from unprofessional handling of firearms within Okambi Youths. One Iduku Udide and Alonso Ukaba did the shooting that affected them within the crowd."
But, Kajetan Ifeanyi, another eyewitness said the protesters demanded to see the Governor in person for meaningful agreement to be reached, and also ordering the suspension of work within the Okambi axis.
According to Kajetan, "Today being Tuesday, 5th of January 2021, it was indeed a tragic morning in the Community as security operatives numbered in their hundreds alongside some thugs and contractors stormed the project site to resume work, reacting to this development, the villagers mobilised themselves to protest against this public ignominy."
He explained that the lady shot is a breastfeeding mother.
This is not the first time violence has erupted over the airport which has cost two lives including those of a Senior Immigration personnel, Mr. Emmanuel Ushie and one community chief in Igwo village.
Dozens have been arrested with some facing trial while properties of those who spoke vocally over the discrepancies in compensation have had their properties seized and kept at the Mopol 75 Squadron base at the Mega Hilton hotel owned by Mr. Ayade.
Several protests have rocked the project with the Police often drafted in to shoot and scare away residents several times.
The State recently claimed that over NGN900 million was paid as compensation to the residents of the five impacted communities. But, natives of these communities have continuously denied this, especially Okambi and Ikwomikwu which will lose at least 80 and 90 percent of ancestral lands. Those affected have also challenged the State to publish the list of beneficiaries.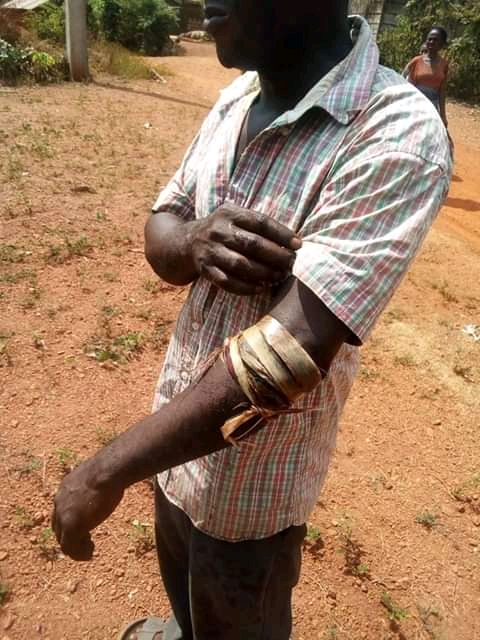 Short Link: